Skip to main content
"Researching UX: User Research" book out now!
We're really excited to announce that we have a new book out!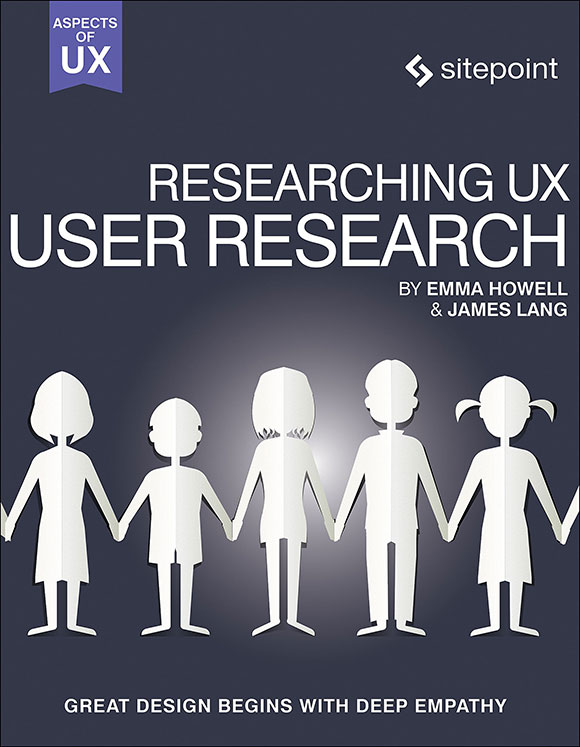 The book is about the craft, technique and processes involved in running a research project. It's aimed at anyone that is interested in user research: those new to the field, people from other disciplines that find themself playing the role of a UX researcher, and those that have been doing UX research for years.
I wrote the book with James Lang, who is UX Research Lead at Google. We wanted to write a really practical guide; one that is free of jargon and that you can dip into when you need advice and support. Our aim was to create a step-by-step guide, so that you know what to do at each point, particularly if you get stuck.
It covers the journey of a qualitative research project from the beginning where the project team is picking an approach, through to delivering the outcomes and results. It covers:
How to choose the right approach for your research project
How to recruit the right participants
Interviewing tips to help you get the most out of your session, and
Tips on analysing data and presenting your results.
We're really proud of it and excited to share it with the wider UX community. We hope that it helps you to deliver engaging and successful research projects that you enjoy doing. Most importantly, we hope that it helps you to deliver research that creates impact and change.
Next week, we will share an excerpt from our chapter about 'Interviewing'. It will tell you our top ten tips to make you a better interviewer; for example, the reason you should avoid 'why' questions.
If you can't wait, you can have a 'look inside', read reviews and order your copy from Amazon or your local bookstore. Alternatively, you can get a SitePoint Premium subscription that includes access to this book and over 100 others.
We hope you enjoy it and would love to hear what you think.